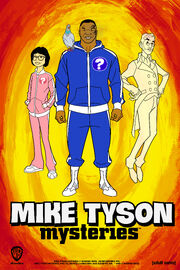 Mike Tyson Mysteries is an American animated comedy television series produced by Warner Bros. Animation for Adult Swim. The show's first season premiered on October 27, 2014 and consists of ten episodes. The series features retired professional boxer Mike Tyson and his group as they solve various mysteries delivered by carrier pigeon. The show was confirmed for a second season.
The show follows Mike Tyson, the ghost of the Marquess of Queensberry, Tyson's adopted daughter, and a pigeon as they solve mysteries. The style of the show borrows heavily from 1960's cartoons, most notably Scooby Doo!, Johnny Quest, and Mr. T.
Characters
Edit
No. in season
Title
Director
Writer(s)
Original airdate
U.S. viewers (millions)

1

"The End"
Ethan Spaulding
Hugh Davidson
October 27, 2014
1.01

2

"Ultimate Judgment Day"
Ethan Spaulding
Kevin Shinick (Story), Hugh Davidson (Teleplay)
November 3, 2014
0.97

3

"Heavyweight Champion of the Moon"
Ethan Spaulding
Hugh Davidson, Patrick Devine
November 10, 2014
1.58

4

"Is Magic Real?"
Ethan Spaulding
Hugh Davidson, Ted Michaels
November 17, 2014
XXX

5

"Mite Tyson"
Jeff Siergey
Hugh Davidson, Larry Dorf, Rachel Ramras
November 24, 2014
XXX

6

" A River Runs Through It Into a Heart of Darkness
Kidnapped!
Night Moves
Ty-Stunned

"

Ethan Spaulding
Hugh Davidson
January 11, 2015
XXX
Ad blocker interference detected!
Wikia is a free-to-use site that makes money from advertising. We have a modified experience for viewers using ad blockers

Wikia is not accessible if you've made further modifications. Remove the custom ad blocker rule(s) and the page will load as expected.